We've got some exciting things coming your way and I can't wait to tell you about it. A lot more recipes like this and some incredible support for you with your PCOS. I can't wait to reveal what the secret is.
High protein breakfasts are where it is at for you to manage your PCOS. I can't wait for you to try this recipe. What is more appealing than a waffle for breakfast. I especially love these with berries and cinnamon on top for some added fiber and blood sugar balance coming from the power of spices (cinnamon).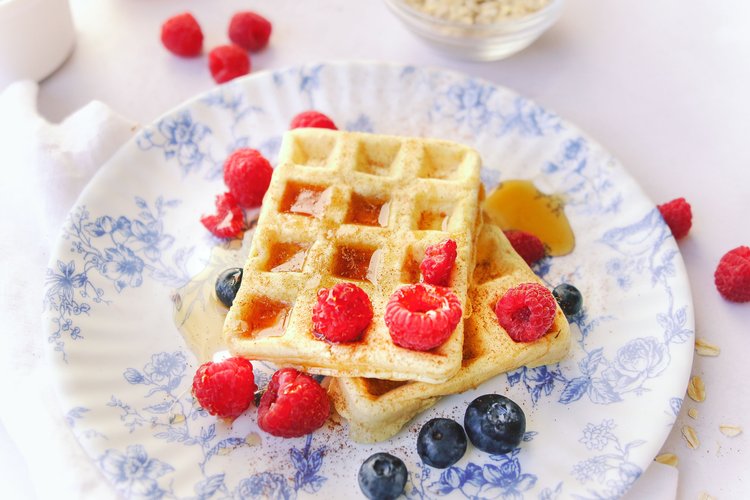 High Protein Waffle
Prep Time: 3 Min
Cook Time: 10 Min
Total Time: 13 Min
You will feel as good as this waffle tastes when you start your morning off with balanced blood sugar. While I love a savory protein packed breakfast for PCOS, I live in the real world, and sometime you just NEED waffles.
INGREDIENTS
12 large eggs
1 cup rolled oats
5 cup almond flour
1 cup collagen peptides
1 tbsp baking powder
1/2 teaspoons vanilla extract
1 cup plain greek yogurt (full fat)
2 tbsp butter
INSTRUCTIONS
Add ingredients to high powered blender in the order listed with eggs on the bottom and butter on the top.
Blend on high until well incorporated.
Heat waffle iron and consider waffle iron instructions to grease prior to adding batter.
Cook waffles on the waffle irons lowest setting. This will allow you to store for later reheating without overcooking and makes for a softer waffle, as these waffles are quite dense.
In between waffles you can mix in blender for 10 seconds so that the batter is freshly mixed and the final waffles of the recipes are not overly dense.
Plate and enjoy.
NOTES
Why this Recipe Works for Blood Sugar Balance: This recipe has so many more eggs than you would typically use for waffles. Instead of using all purpose flour we have replace that with oats and almond flour. Adding plain greek yogurt is an additional source of protein. I also make this with collagen peptides in my house. You won't even know they are in there once you blend this recipe up. Simply wonderful!
Why this Recipe Works in your Kitchen: This recipe requires a high powered blender. You really need to blend this recipe to get the right consistency. Whether you have a round or square waffle iron, it doesn't make much of a difference. Blended is key though. The other pro tip for this recipe is cooking these on the lighter side – they are dense and if you cook until crispy you may not like as much as a softer version.
Toppings: You can include toppings over the waffle or add them while cooking. Blueberries or chocolate chips are great additions if cooking in the batter.
Substitutions: If a high powered blender is not available to you, consider purchasing oat flour instead of relying on blender to grind oats into flour during the mixing process.
Make Dairy Free: Remove full fat greek yogurt from recipe and either replace with a non-dairy yogurt alternative or skip yogurt altogether.
First time making waffles: Lightly grease your waffle iron or add 1-2 Tbsp of coconut oil or butter to the recipe to help waffle from sticking to iron.
Spice it up: Adding cinnamon on top of the waffle or mixed into the batter can add flavor dimensions while also improving your blood sugar response.
Store for later: This is a great recipe to make in bulk on the weekends and just like those eggo waffles in the store, consider freezing for a quick breakfast on weekdays. These stay good for 3-4 months in a freezer sealed ziplock bag.
NUTRITION FACTS
Created using The Recipes Generator